Our

annual lawn program is designed to develop a thick, green lawn.

Our program will combat weeds, insects and diseases. The only way to achieve this is through regular lawn feeding. Let our licensed state applicators end your constant battle against crabgrass, dandelions and grubs.

Our lawn maintenance can include mowing, fertilizing, insect control and disease control. Call us to schedule a free inspection and estimate of your lawn today.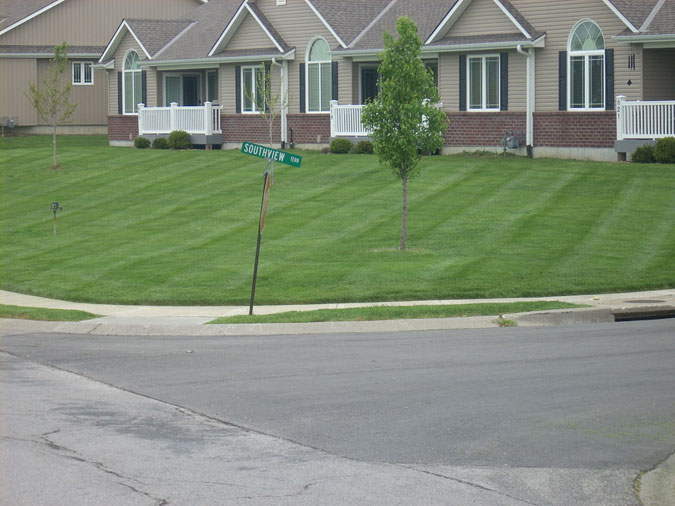 Turf

Treatment Program – FP
Round #1 | F01 | Late Feb - Early April
1st Round of pre-emergent controls crabgrass, foxtail. Includes balanced rate of granular fertilizer.
Round #2 | F02 |  Early April - Late May
2nd round of pre-emergent to control crabgrass, foxtail, broadleaf, wed control for existing weeds. Includes liquid nitrogen.
Round #3 | F03 |  Late May - Late June
Insecticide (granular) with balanced rate of fertilizer controls surface-feeding insects such as aphids, sod webworms, fleas, and ticks. Broadleaf weed control applied as needed (liquid.)
Round #4 | F04 |  Late June - Early Aug
Grub control applied to prevent root damage to lawn (granular.)
Round #5 | F05 |  Late Aug - Late Oct
Broadleaf weed control applied with balanced rate of fertilizer.
Round #6 | F06 |  Nov - Dec
Heavy rate of nitrogen fertilizer.
Optional Fungi | F07 | Mid April
Fungicide treatment applied to prevent and cure disease such as brown patch.
Optional Lime | F09 | Mid May - Mid June
Lime is applied to balance the soil nutrients and break up hard compact soil.
The timing of fungicide is critical and in some cases third application is necessary to keep turf in premium condition. Fungicide treatment and Lime treatment is more and an additional expense over and above your regular treatments.
Please call for an estimate.