Employment: Opportunities, Requirements, Job Description and Application
Kohler Lawn & Outdoor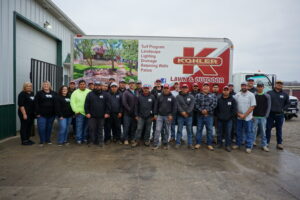 is always improving in all areas. We are always looking for responsible hard workers to add to our crews. If this opportunity sounds like you qualify, we would love to hear from you. Please print, fill out and bring in the employment application below to our office located at 19415 S State Route 7 Hwy in Pleasant Hill, Missouri. Go to our office building on the east side of 7 hwy next to the storage units. 
Opportunities:
At Kohler Lawn & Outdoor, there is potential to earn many hours of weekly paid income
Opportunities to show responsibility
Work a variety of jobs and tasks
Holiday Pay for 6 holidays each year available after introductory period
IRA Program available after introductory period
Insurance Program available after introductory period
Paid Time Off hours available after introductory period
The harder you work, the more you make.
Work for an established company in the outdoor industry
We will train you! Lots of opportunity to move up if you learn new skills
Requirements:
Be able to perform physical activities that require considerable use of arms, legs, and moving the entire body. Activities include but are not limited to, lifting, twisting, turning, balancing, climbing, walking, stopping, pushing, pulling, grasping, and manipulating your body into odd positions throughout a work day.
Be able to work in all weather conditions: Sunny, hot, cold, rain, snow, and ice. We will work in extreme heat and cold. Be prepared for all conditions.
Click on this link for a printable version of our job application:
Click on this link for an Online Employment Application