Outdoor Lighting Provides An Illuminating Atmosphere For Entertaining In The Evenings
Outdoor lighting serves many purposes and is a quick install giving nearly an immediate face lift to your property's outdoor appeal. At Kohler Lawn & Outdoor, we say outdoor lighting gives the most "bang for your buck" since the install is quicker than other services we offer and for the customer, all the appeals of the home are now on display for all hours. Outdoor lighting also provides an inviting atmosphere for entertaining in the evenings, for friends and family, from parties to intimate gatherings.
Between outdoor furniture, gardening accessories and other types of exterior decor, it's easy to have a stylish and presentable yard, especially in the spring and summer months. The front and back of your home are equally important, being that the front is the first thing seen and the back is where people tend to gather, especially for entertaining in the evening.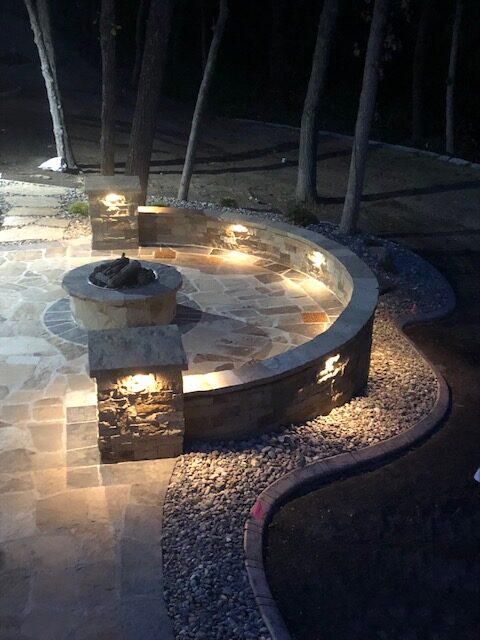 Just like decorations, lighting is significant as well. Implementing lights may sound obvious, but it seems as though many homeowners use them for one function only, light. While this is the most important function, they can be used for decoration at the same time. Don't just illuminate your yard to see, illuminate it for style.
Enhance your landscape with post lantern lights, path lights and well lights. Even during the day, when they're not yet lit up, they add that something extra and bring attention to the green grass and/or garden. These lights bring curb appeal to the front yard and sophisticated style in the back.
With outdoor lighting, you can enjoy the garden late into the evening, especially if you spend a great deal of time outside or host gatherings in the yard.
Adding lighting beyond the typical one or two lights can provide extra security as well, especially if they're motion sensored or automatically light up when the sun goes down.
Outdoor lighting helps with the security of your home which is usually a homeowner's top priority. One of the major deterrents to burglary is a well-lit home and we look to give you just that. Kohler Lawn & Outdoor's lighting experts are great at assessing property with the property owner's security in mind.
Kohler Lawn & Outdoor also provides follow up services if any maintenance or repair is needed for those customers who can't or choose not to do it themselves. While this type of install doesn't require much maintenance, it's nice to know Kohler Lawn & Outdoor is always available to help.
For more information, call Kohler Lawn & Outdoor at (816) 540-4400. To make an appointment, click here.