Swimming Pool Installation: One-Stop Shop
Swimming Pool Installation Planning tends to pique in the fall and winter months. Our clients who see themselves enjoying a new outdoor swimming space by next summer know that fall and winter is the time to start planning.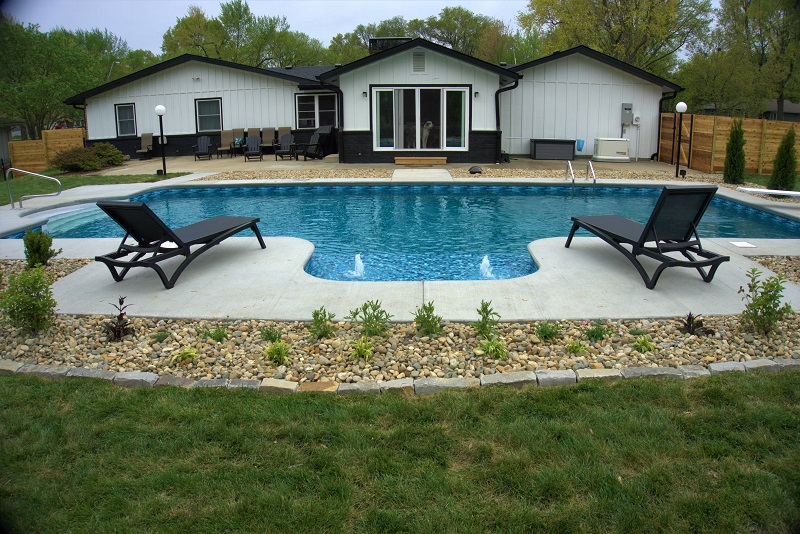 Kohler Lawn & Outdoor is your one-stop shop for swimming pool design, construction planning and installation.
Imagine stepping out your backdoor into your dream swimming oasis. With our custom swimming pool installation process, we will take care of any dirt work, sod, concrete, fencing, irrigation, landscaping or retaining walls needed as part of your design.
The possibilities are endless, and our project managers are happy to work within your budget to help create your new pool.
Swimming Pool Installation Options
Pool Shape – from your traditional rectangles to sweeping curves, zero gravity entries, we can find a shape that works for your space and is aesthetically pleasing
Custom Deck & Coping – deciding if you want stone, concrete or tile work done for the edge of your pool and border is one of the more fun aspects of the design process. The colors, patterns and styles are endless.
Lighting – We can light up your pool from underwater, as well as make sure there are plentiful lighting and accent features surrounding the pool and deck.
Styling – Decide if you want a sun deck, water fall or feature, diving board or slide (the kids' favorite!) and let our designers create a plan for you that is gorgeous!
Extra features – Don't forget about perimeter landscaping, automatic pool covers, irrigation, retaining walls, pool fencing, or pool automation. Kohler Lawn & Outdoor will handle it all for you.
Working With Kohler
You will first meet with one of our project managers and make decisions about how your swimming pool will look and operate. Once a design is finalized and budget established, we will move forward with project planning. From construction to completion, our project managers are here to make sure your new glistening paradise is as perfect as you have imagined!
We have a fabulous online gallery of ideas and past work that just may inspire you to start your swimming pool installation process today!
Make Your Pool Installation Call Today
You will want to choose Kohler Lawn & Outdoor because we are honest and fair to our customers while doing solid work that we stand behind. We take time to listen to the customers' needs and give them something to be proud of as well.
Ready to make a change in your yard? We can give you curb appeal, alleviate drainage problems, or create an outdoor living space with a pool that will provide decades of enjoyment! Check out our
services gallery
for some inspiration or
give us a call
today. We have experienced lawn professionals waiting to work with you.
Kohler Lawn & Outdoor
816-540-4400