For Ultimate Outdoor Living, Outdoor Lighting is our Secret!
When it comes to outdoor living, outdoor lighting is our secret trick to elevating your outdoor environment and even adds value to your home! Kohler Lawn & Outdoor has been providing ultimate outdoor living spaces and jaw-dropping outdoor lighting since 1992! It's no secret that we know what we're doing in outdoor living and outdoor lighting.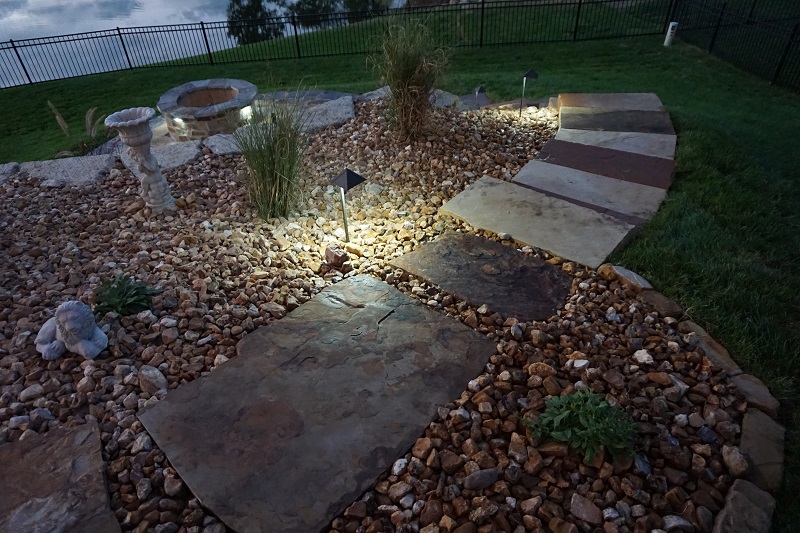 We have all appreciated a home that is gorgeously
illuminated at night
. Peaks graced with accent lights, walkways marked with lights, overhangs glowing. Not only does this improve curb appeal, it also helps with the home's security.
During the shorter daylight hours of fall and winter, the lit footpaths can help to prevent injury to guests or homeowners. At
Kohler Lawn & Outdoor
, we say outdoor lighting gives the most "bang for your buck" since the install is quicker than other services we offer and for the customer, all the appeals of the home are now on display for all hours.
In addition to home security and accent outdoor lighting, lighting can also be installed around the following outdoor living areas:
Paved Patios & Paths – Pavestone and flagstone professionally installed will stand the test of time with low maintenance over decks, gravel, mulch or other patio materials. Read more about pavers and flagstone here.
Fire pits have always been popular for outdoor gatherings. Traditionally these spaces provide a place to cook, warmth and a place to gather. Click for more examples of fire pits Kohler Lawn & Outdoor has installed here.
Seat walls are a type of retaining wall build at seat height. These are great for around fire pit areas and create a separated outdoor space. They add to the "outdoor living" feel. See examples of block seat walls by clicking here.
30 Years in Business!
In 1992, Clay Kohler started a small lawn care business to help pay for college. With 2 trucks and few friends as employees, the beginning of Kohler Lawn & Outdoor was born. Then in 1998 he added landscaping to his services. From there, growth has been very steady in every aspect of the business. We are a full service lawn company which means we provide a variety of outdoor services including landscape & landscape construction/design, irrigation system install, retaining walls, paver patios, walkways, outdoor lighting, lawn mowing, & turf treatments. Our company is based out of Pleasant Hill, Missouri and service the Kansas City metro area (in cities such as Pleasant Hill, Harrisonville, Blue Springs, Lee's Summit, Greenwood, Raymore, Belton, Grain Valley, Liberty, Independence, Overland Park, Leawood, and Prairie Village, Kansas).
You will want to choose Kohler Lawn & Outdoor because we are honest and fair to our customers while doing solid work that we stand behind. We take time to listen to the customers' needs and give them something to be proud of as well.
Contact Us
or call
816-540-4400
today to schedule an appointment with one of our experts and let us help make your project a reality in Jackson and Cass Counties.