Landscaping For Proper Drainage Protects Your Foundation
Landscaping, when done properly with Kohler Lawn & Outdoor, can prevent or correct drainage issues, which can lead to costly foundation problems. Spring rain is inevitable, but the costs to repair washed away landscaping or clean up mold and musty basements don't have to be in your future. Proper landscaping with Kohler Lawn & Outdoor landscaping solutions can save you time and money for years to come.
Landscaping with Kohler Lawn & Outdoor begins with a full assessment of your current landscaping issues. This includes any potential foundation issues such as: standing water, downspout drainage, water stains, flaky, crusty white or gray deposits, foundation cracks, and even musty attics. These are all signs of a drainage problem. We will inform you of any potential concerns and work with you to fix the landscaping piece of the problem.
Kohler Lawn & Outdoor offers a variety of landscaping options to remedy every drainage issue and increase the appeal and value of your home. Sometimes, it is simply a matter of grading the area so that water rolls easily away from your (and your neighbor's) home and landscaped beds. Where surface grading is not enough, often a French drain is ideal. A French drain is a trench filled with gravel and often a perforated drain line that the surrounding area is graded to so that it collects the water and allows it to slowly filter into the soil underground. Dry creek beds that divert water to a rain garden, dry well, or wastewater runoff systems are a functional solution that also beautify your landscaping, and often look so natural no one would guess they're man made.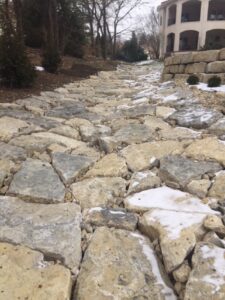 There are other common drainage issues proper landscaping can resolve. A low-lying problem area may create standing water. Although this does not threaten your home's foundation, it will make it difficult to keep plants alive and can be a muddy eyesore. Erosion from storms or wind can wash away plant beds and carry off your grass or mulch. Landscaping with Kohler Lawn & Outdoor can easily correct these issues with long-lasting, cost effective solutions.
Kohler Lawn & Outdoor has been your hometown lawn services specialist since 1992, located in Pleasant Hill, MO and serving residential and commercial customers throughout the southeast Kansas City metro area. For almost 30 years, it's been the vision of owner/operator, Clay Kohler, to provide a full-service lawn and outdoor company through superior customer service and personal relationships. He strives to provide the best quality service with a knowledgeable and professional staff to help you create the outdoor landscape experience of your dreams.
Kohler Lawn & Outdoor is a full-service lawn care company. In addition to landscaping construction and design, we offer
pool installation

holiday lights

and more!
Kohler Lawn & Outdoor can create and maintain beautiful, functional landscaping with proper drainage to enhance and protect your property for years to come. Call us at (816) 540-4400 or click here to make an appointment today!