Retaining Walls – Let Our Experts Create a Beautiful Space for You!
Retaining walls are a great solution to provide natural looking barriers. If your property is sloped or hilly like many parts of Jackson and Cass County Missouri, you can gain back your outdoor space, reduce drainage problems and improve your home value by installing a retaining wall. Let our experts create a beautiful outdoor space for you!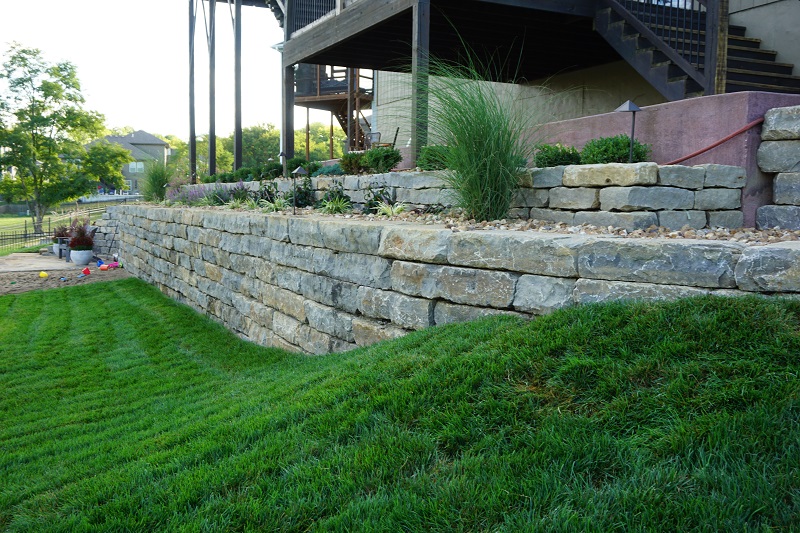 There are a few types of retaining walls
available
:
· Cast Concrete – Poured in place concrete is strong and can be installed more quickly than placing natural stone. For some homeowners, it lacks the aesthetic appeal they are looking for in their outdoor space.
· Stacked Natural Stone – Kohler Lawn & Outdoor can hand stack smaller stones or use heavy equipment to place larger limestone blocks. Natural stone offers a variety of looks to match any style. Natural stone is sturdier and denser than one made from a manufactured concrete stone.
· Concrete Pavers – A more cost-efficient option for buyers, and offers concrete dyed in multiple colors and pressed in different "natural" shapes to appeal to different styles.
Kohler Lawn & Outdoor specializes in retaining walls and can even complete this work
during winter
. Winter months prime the ground for major overhauls, and with no lawn maintenance or upkeep in the Kansas City Metro Area until April, retaining wall installation gives the ground time to adjust before any spring weather occurs.
Did you know that Kohler Lawn & Outdoor is
Interlocking Concrete Pavement Institute
(ICPI) Certified? ICPI is considered by peer associations around the world as the leader in development of technical information for design professional in the hardscape industry.
Beautiful Spaces by Kohler Lawn & Outdoor
Ready to make changes in your yard? We can give you curb appeal, alleviate drainage problems, or create an outdoor living space with a retaining wall! Check out our
services gallery
for some inspiration. We have experienced lawn professionals waiting to work with you.
Contact Us
or call
816-540-4400
today to schedule an appointment with one of our experts and let us help make your project a reality in Jackson and Cass Counties.