Let an Irrigation System Do The Watering For You and Get The Landscape Results You Want in 2023
An Irrigation System can do the work of watering for you this fall. If you want to get the landscape results in 2023 and are tired of the hassle of keeping up with daily watering, let's talk irrigation systems!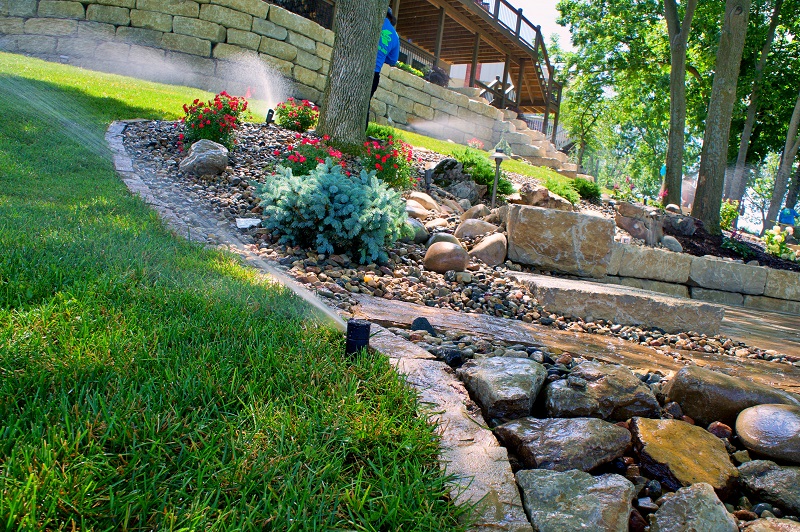 An irrigation system is a convenient way to provide your Pleasant Hill, Jackson County, or Cass County lawn with needed daily moisture with no more effort. Our automatic sprinklers can run on a schedule and don't require you to drag out a hose and sprinkler or turn on and off the spigot. Never forget to water your lawn again with a professional Kohler Lawn & Outdoor installation.
One of our lawn care specialists will assess your lawn and determine the amount and frequency of your watering and the placement of the system sprinklers. Many of our clients notice a difference after only 30 days of automatic watering, giving their lawns a vibrant and healthy luster.
An irrigation system will ensure you never overwater your lawn again. Using timers and automatic sensors, you will not need to worry about wasting more money on watering your lawn. This is because an in-ground system conserves water! Kohler Lawn and Outdoor's professionally installed systems with professionally quality parts will increase your property value and give you that lawn you've been dreaming of.
The modern technology in a new sprinkler system will provide the correct amount of water your landscaping needs to thrive. A system with a center pivot can be programmed to start and stop at specified angles or times. This means you get the lush landscape and only water when you want it! An automated sprinkler system will keep your lawn looking its best for most of the year. You'll save money because you won't be over-watering your yard and will never have wilted or scorched plants due to lack of water.
Trusted Experts For 30 Years and Counting
For more information about a professionally installed irrigation system in Pleasant Hill, Kansas City, or anywhere in Johnson, Jackson, and Cass County, call Kohler Lawn & Outdoor at (816) 540-4400 or contact us online!